Signature drinking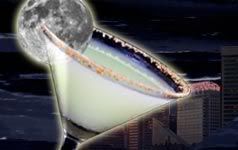 Question: What is your signature drink?
If you had to pick one drink you love that also says something about you, what would it be? As you can see, my drink is a martini garnished with a slice of moon. I call it a moon-tini.
Actually, I like a Chivas Regal on the rocks. Die hard scotch fans would scoff at me, since you're only supposed to put a dash of water in your scotch (and drink it at room temperature), but I don't care. That's how I like it, and that's my drink.
And I like what it says about me ...
Chivas is a blended double-malt. It's complex but goes down pretty smoothly -- especially on ice. It's not too salty or smoky, and has a rich history.
Frank Sinatra and the rest of the rat pack drank Chivas. So did my Pop Pop, who, when I was younger, seemed infinitely cooler than Sinatra.
Just last weekend, I enjoyed a fine glass of Chivas 18-year with Pops on the Eastern Shore. Now that's pleasant living.
Posted by
Sam Sessa
at 11:30 AM |
Permalink
|
Comments (31)
Categories:
Bars & Clubs