McCracken's is now the Tavern on Key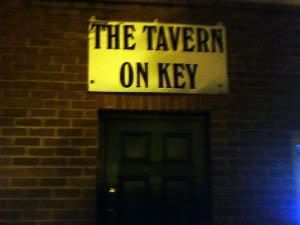 This is probably the worst photo I've taken in a while. But it was necessary.
Remember McCracken's on Key (1400 Key Highway)? Well, as I understand, it's under new ownership.
And with that new ownership comes ... gasp ... a sign. Yes, a real street sign.
I haven't been in side, but from the sidewalk, it looks like the new owner hasn't changed the place much. I'll bet beer prices have gone up some, but that was inevitable.
I mean, someone's gotta pay for the sign, right?
(Photo by me)

Posted by
Sam Sessa
at 1:03 PM |
Permalink
|
Comments (4)
Categories:
Bars & Clubs