I won!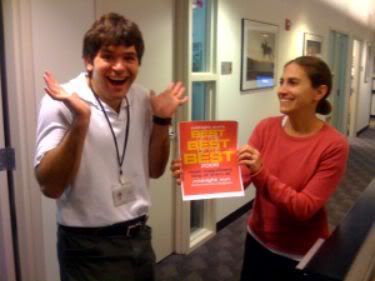 Great news, Midnight Sunners -- I won a Best of the Best of the Best Award for Most Magnificent Blog of Them All!!!!!!!
How exciting is that?
As you can see, I'm pretty excited.
That's Midnight Sun Commander Meredith to the right, presenting me with the award.
What a surprise!
Well, it's not the only surprise. There are more awards coming in the next week or so. All kinds of awards -- for bars, clubs, commenters, etc.
I really like the template Midnight Sun Technical Director Carrie came up with. I'll post it later.

Posted by
Sam Sessa
at 11:38 AM |
Permalink
|
Comments (8)
Categories:
Random stuff