Drugs ruled out in K-Swift's death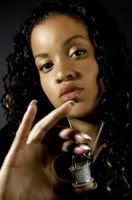 A toxicology report revealed a "small amount of alcohol" and no drugs in the body of the late Baltimore Club DJ Khia "K-Swift" Edgerton (pictured), said Dr. David R. Fowler, chief medical examiner.
In July, Edgerton, 29, dove into her swimming pool and did not resurface. Neck injuries were ruled the cause of death.
Here is a link to photos of Edgerton's funeral, which thousands attended.
(Handout photo)
Posted by
Sam Sessa
at 9:54 AM |
Permalink
|
Comments (1)
Categories:
Local music