Beer on a stick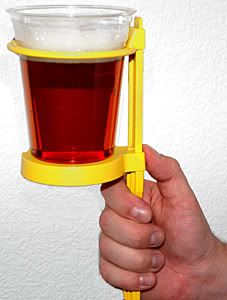 Why? Because we can.
And this is America, fool.
That's why.
Here is a link to the official Beer on a Stick site, where you can purchase this incredibly innovative yet strikingly simple accessory. It comes in different colors, too!

I also enjoy Beer on a Stick's motto:
"It's how you hold that keeps it cold."
Truer words are seldom spoken.
Also, if you look to the sidebar on the right side of this site, you'll see a new category called Drink-ology. I'm putting all the posts about weird drinking gizmos there.
Enjoy!
Also, if one of you ends up buying Beer on a Stick (Evan, I'm thinking about you), I want you to take a photo of Beer on a Stick in action and send it to me.
(Photo from Beer on a Stick's site)
Posted by
Sam Sessa
at 7:30 AM |
Permalink
|
Comments (6)
Categories:
Drink-ology