Baltimore Music Conference is almost here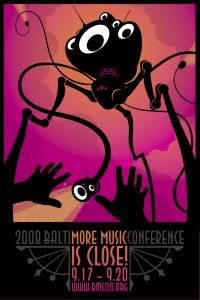 Here we are, just about a week away from the next Baltimore Music Conference.
The four-day event features performances from local and national bands, panels, discussions and much more music-related stuff.
I'm actually going to be on a panel about marketing and blogging.
Here is a link to the BMC's web site, where you can get tickets and find out more information about the event.
Posted by
Sam Sessa
at 8:00 AM |
Permalink
|
Comments (2)
Categories:
Local music