Are signs at shows cool or annoying?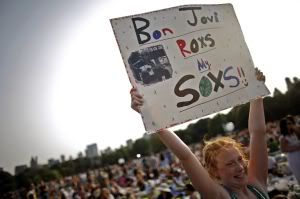 Picture this: You're standing a dozen rows deep at a Bruce Springsteen show. You paid $100 a seat, and you're standing up, grooving to Rosalita* or some such.
Just then, the chick in front of you whips out a massive "I Love you BRUUUUUCE" sign" and starts waving it around.
Suddenly, your $100 view of the stage is obstructed.

What do you do?
Do you tap the gal on the shoulder and ask her to put the sign down?
Or is holding a sign just like standing up -- something you have to deal with? ...

Personally, I draw the line at signs. Yeah sure, let 'em wave it for a song. They took time and made the thing, blah blah blah.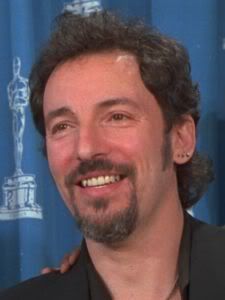 But any more than one song and that sign has to come down. That's my opinion.
I have a different opinion about standing vs. sitting.
Amie and I were at a Billy Joel show in Washington a couple years ago, towards the back of the Verizon Center.
We stood up and danced to one of the songs, and the middle aged man behind me asked me to sit down.
I turned to face him, and gave him the Evil Eye. Out of courtesy, I sat down for a bit a couple songs later.
But everybody's got legs, and unless you're going to see something like this live, you had better be prepared to use those legs -- especially if you're rocking out to Billy Joel or Bruce Springsteen.
*I picked Rosalita because that's my personal favorite Springsteen song. I hear he recently tore it up at Hershey Park.
(AP photos)
Posted by
Sam Sessa
at 9:49 AM |
Permalink
|
Comments (10)
Categories:
Local music