Angels Rock Bar disses Joel Madden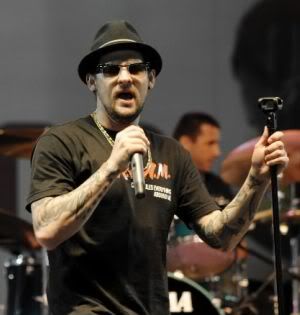 There's some serious drama bouncing around MySpace about Angels Rock Bar and Good Charlotte lead singer Joel Madden (pictured).
Now, I don't have both sides of this story because Reed Cordish never returned an e-mail I sent to him yesterday.
But I've heard the same story from a couple different people, and it's pretty wild, so I'll share it with all of you.
To celebrate its one-year anniversary, Angels Rock Bar in Power Plant Live booked Madden to DJ there this past Friday night.
However, Madden had to cancel a couple weeks before the gig. I'm not sure how far in advance of the gig or why he canceled.
What kills me is how Angels reacted to the cancellation: According to a couple sources, they printed up T-shirts which read "Joel Madden is a [cuss word often used to describe a cat]." ...
According to my sources, Angels also permanently banned DJs from playing Good Charlotte in the bar. Keep in mind, Good Charlotte is a local band done good that still has area ties and performs around here pretty regularly.
And Madden isn't the first person to cancel on Angels -- Tommy Lee bailed back when they opened.
If this Madden saga is true (and I believe it to be true), Angels just dropped to a new low. Cancellations happen. Get over it. Dragging Madden's name through the dirt like that is wildly uncalled for. And unless I hear that all of this is a lie, I am hereby banning any mention of Angels Rock Bar from Midnight Sun.
I don't support this kind of unnecessary stupidity.
(AP photo)
Posted by
Sam Sessa
at 2:11 PM |
Permalink
|
Comments (52)
Categories:
Bars & Clubs