What do DJs actually do these days?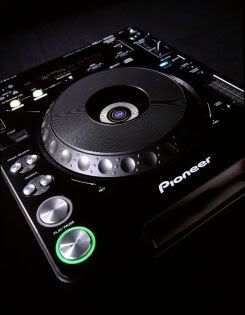 Back in the day, DJs used to spin records.
You could groove down on the dance floor, look up and see the DJ picking through records, pulling one out of its sleeve and slapping it on the turntable.
Then came the switch to CDs. Same deal, except the CDs were harder to see, and the turntables were digital ones like the CDJ-1000 (pictured, at right).
Now, a lot of DJs use mp3 files, load them onto a laptop and "spin" through that.
I've never been a DJ, so I don't know for sure, but it sounds to me like that's a piece of cake. You synch up the beats (or maybe the comp even does it for you), twist a couple knobs, push a button and the music plays.
Booooooring.
I'll bet if you had a camera pointed at the DJ table when Moby came to the Virgin Mobile festival, you would have been bored out of your gourd. It looked like he had the music on autopilot.
He would push a button, jump up on the table, throw his hands in the air and groove for a while. Then he'd jump back down, twist a knob and groove some more ...

Armin Van Buuren would step back from the table for a minute at a time and clap or make the devil's horn sign with his hands.
With all the advances in technology, do DJs actually do anything anymore? It doesn't look like it from the crowd.
Don't get me wrong -- I'm not hating on house music. I like dancing to techno and trance and love some electronica. But I'm not enamored with DJs unless they actually do something (or look like they're doing something).

Posted by
Sam Sessa
at 12:23 PM |
Permalink
|
Comments (36)
Categories:
Local music