We're all set for the soiree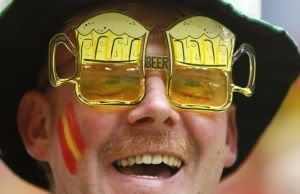 I just got off the phone with Brendan from Idle Hour, who said it's cool to have the soiree at his place.
I mean, I was going to have it there whether he wanted to or not, because I play by my own rules, but I was just being courteous, ya know.
He said drinks are free between 7:00 p.m. and 7:30 p.m.* So get there early.

I'm getting name badges ("Hello my name is") and a Sharpie. That way we know who is who.
I'm hoping the soiree will devolve into something like this.

*Brendan didn't actually say this. He implied it.**
**Ok, ok, he didn't imply it either. I just made it up. But he did say something about knocking a buck off beers and Chartreuse shots.
(AP photo)
Posted by
Sam Sessa
at 3:53 PM |
Permalink
|
Comments (9)