The Nest replaces DSX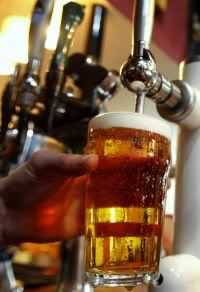 Item: Starting tonight, The Nest will replace the Downtown Sports Exchange at 200 W. Pratt St.
I haven't been, but the three-story Nest reportedly boasts 22 flat screen TVs, hardwood floors, a deck and an outdoor grill and beer shack.
If someone goes this weekend, please lemme know whatcha think of it.
I reviewed it when Art Masoero renovated and reopened it in late 2006.
For the review, I talked to Jim Stankovic, who ran DSX for 10 years with his son Phillip and daughter Sharon.

"I give them credit," the elder Stankovic said at the time. "It looks like it's coming back pretty strong."
Guess that didn't last.
(AP photo)
Posted by
Sam Sessa
at 2:53 PM |
Permalink
|
Comments (5)
Categories:
Bars & Clubs