Recapping the soiree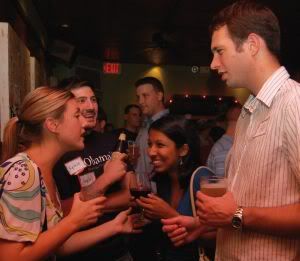 My head hurts.
Last night's soiree was a smashing success! We had a great turnout -- the Idle Hour (201 E. Fort Ave.) was packed.
BA, Jmgiordano, Mobtown Molly, m, Crazy Joe, Roommate Patchen, Jeremy, gidg, Jason and Evan were but a few of the Midnight Sunners who showed up.
This was the first and last soiree that coincides with a Ravens game, by the way. That was a big mistake I shall not repeat. Parking was a nightmare!
It was also a little awkward when the occasional random bar-goer would saunter in and I would be like "Are you here for the soiree?" and they'd go all deer in headlights on me. After a while, I just started slapping name tags on people.
Jason brought an awesome spread of ribs, crab cakes, chicken kabobs and vegetables. Thanks again, man.

Courtney took a bunch of photos, some of which I will share with you now ...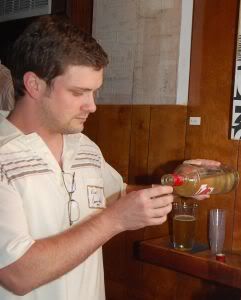 Evan brought his glorious bacon vodka, which was better than the shot I tried at Captain Larry's. But bacon vodka sounds better than it actually is.
Here I am, bacon vodka shot in hand, toasting Midnight Sun and Idle Hour and God knows what else.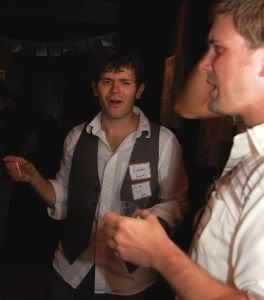 This is me and Evan after the shot. I can still taste it in my mouth, which is really nasty.

Roommate Patchen started dropping shots of bacon vodka into pints of Resurrection and chugging them.
He offered me one. I cringed, respectfully declined and watched from the sidelines. That was probably the best decision I made all night.
I tried to confuse people by swapping name tags with Brendan, the bartender and co-owner. It worked on BA, who did a double take when he came in.
But I eventually gave up the ruse and stuck another sticker on my vest.
In case you're curious, the whole white shirt, vest and jeans is my tribute to Art Garfunkel.
Posted by
Sam Sessa
at 12:18 PM |
Permalink
|
Comments (18)
Categories:
Bars & Clubs