I was so wrong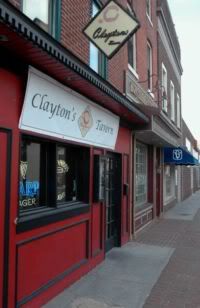 Earlier this week, I dug back through some of my first nightlife columns, and I want to apologize for one of them.
It was a review of the now defunct Clayton's Tavern in Federal Hill. Clayton's was replaced by Muggsy's a few months ago.
Critics make mistakes. Especially new critics, which I was at the time.
My biggest mistake was assuming that Clayton's would be a beer bar, much its predecessor Sean Bolan's. Owner Matt Daneker told me they planned to offer a wider selection of bottles, and I jumped to conclusions.

They didn't have a big selection at the time, and I was just going on his word.
I learned an important lesson -- don't judge a bar just by its plans. Every bar owner has big plans. Not all of them follow through.
Also, the original review, which I've copied and pasted here for all of you, is painfully overwritten.
Read on if you dare, and feel free to pick it apart ...

Fret not, brew gurus -- you've still got a haunt on Light Street.
When Sean Bolan's Irish Pub in Federal Hill announced its closing late last year, shockwaves went through the local beer-loving circles.
The building was reopened as Clayton's Tavern, but Bolan's had been home to tastings and a long rotating list of microbrews, and patrons feared the selections would be lost with new ownership.
But while business partners Amy Wright and Matt Daneker (pictured) toned down the Irish element when they reopened the site two months ago, they left the beer selection fairly intact.
They also gave the menu a more American flair.The new management cut Bolan's original lineup of about 21 taps down to 16. A dozen choices, including Harp, Guinness and Yuengling, are offered year-round. The remaining four rotate, depending on the season, Daneker said.
Prices hover around $4 for drafts, though an imperial pint of Guinness (20 ounces) is a dollar more. Last Monday, drafts of Yuengling and Clipper City's McHenry lager were both $2 until 10 p.m. -- a decent deal. On weekday evenings, Clayton's knocks $2 off all drafts until 7 p.m.
One of the most noticeable changes is the absence of old peanut shells on the floor. Though the wooden tables and chairs are still a little worn and pitted, Daneker and Wright cleaned the place up. Daneker is proud of the upstairs bar and dining room and rightfully so -- grab a table there and you could be in a polished restaurant, not a tavern.
You're not bombarded with Irish memorabilia when you walk in -- it's tastefully spaced across the walls, and there aren't a thousand flags hanging from the ceiling.
There's also more American bar fare on the menu, like buffalo wings ("on fire" is not that hot), chicken tenders (ask for the buffalo sauce coating) and burgers (thick, juicy and peppery).
Daneker said he sees beer and wine tastings returning in the near future but needs some time to work up to them.
"[It's] definitely something we're interested in doing," Daneker said. "We're eight weeks old at this point, so we've been trying to walk before we run. ... Down the road, I think beer tastings, wine tastings, maybe even some scotch dinners -- something along those lines -- would be a lot of fun and something we'd be really interested in doing."
Both the food and the decor are a step up from most bars around town, and though the beer list is slightly shorter, it's a fair trade for the end result.
(Photos by Barbara Haddock Taylor/Sun photographer)
Posted by
Sam Sessa
at 7:53 AM |
Permalink
|
Comments (4)
Categories:
Bars & Clubs