My review: Boomer's on the Hill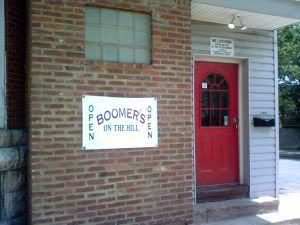 Here's a link to my official dead-tree review of Boomer's on the Hill.
It came out today.
One of the things I talk about in the piece is the appearance of recently rehabbed bars.
Remember Charlotte's on Light Street, or The Vine or even Taps now?
It seems as though new bar owners focus on the interior of their bar much more than the exterior. But if it doesn't look friendly from the outside, people probably aren't going to come in.
Also, I'd like to thank my fiance Amie for recommending the word "meh" in the lead. I think it makes the story.
(Photo by me)
Posted by
Sam Sessa
at 3:49 PM |
Permalink
|
Comments (12)
Categories:
Bars & Clubs