Boomer's shows the love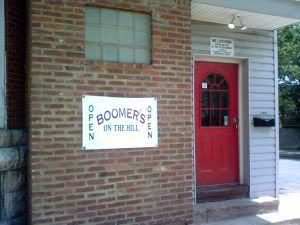 Went to Boomer's on the Hill (1749 Belt St.) last night for some Wii action and was shocked to see not one, not two but three copies of my review posted inside.
Three! I think that's a record.

Sounds like I'm a popular guy, right? Untrue.
When I gave the bartender my credit card to start a tab, she read the name, called me Sam and gave it back to me. She didn't put two and two together, even though my reviews are called "Sam Sessa on Nightlife."
Which was fine by me, because I'd rather not have to tell her I can't take a free beer because of The Sun's ethics policy and all that.
The only time another bar has come close to having three of my reviews posted was Bedrock ...
They enlarged my column until it was about four feet tall and fixed it to the front door of what is now the Sidecar Grill.
You could actually read it sitting in your car on Baltimore Street.

I wonder if having my photo run with the column will actually make more people recognize me. I think it might, but not as much as you'd expect.
I mean, who reads the print version of my nightlife column anyway? I'd say mostly baby boomers who live in the county and like reading about my exploits. They probably won't ever go to most of these bars, but they like reading about them.
Guess we'll find out tomorrow, when the first full body shot (scandalous!) of Sam Sessa hits newsstands everywhere.

(Photo of Boomer's by moi)

Posted by
Sam Sessa
at 10:08 AM |
Permalink
|
Comments (1)
Categories:
Bars & Clubs