Wind me up!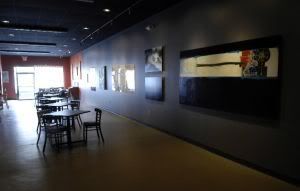 Hey kids!
A case of jury duty and a pile of work kept me from posting yesterday (travesty!). But I'm back in action as of right ... NOW!
Went to the Windup Space (12 W. North Ave.) last night for a review. I really like what Russell de Ocampo has done with it.
Don't know whether this is his doing or not, but there's a suggestion box on the front of the building.
Intriguing, I know ...

I think it's fantastic the bar is so willing to open a dialog with its customers. It's anonymous, too, which means if you wanted to say something like "fire this bartender because he/she stopped bathing months ago," you could do it.
Not that you would. But you could. And lord knows I love having options like that.
But do people take advantage of it? I'm not sure. I tried to sneakily open the box, but it was locked.
Sneaky plan foiled.
Then I tried to peek inside. Still no luck. Even so, it's a great idea. And I loudly applaud the owners for their ingenuity.
(Photo by Andre F. Chung/Sun photographer)
Posted by
Sam Sessa
at 10:39 AM |
Permalink
|
Comments (8)
Categories:
Bars & Clubs