What a couple bucks will buy
Times are tough.
Pennies are being pinched. Belts tightened. Cliches used.
Sam "Money-Saving" Sessa to the rescue! ...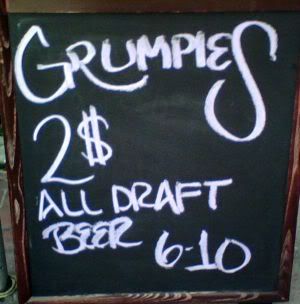 First up, we have happy hour at Grumpies Pour House at 25 E. Cross St. by the Cross Street Market.
$2 drafts for four hours straight?
Not bad, not bad.
Scroll down a little further.
And, in the left corner, we have the neighboring Federal Hill Lounge's slightly earlier four-hour happy hour.
As you see, the food is free!
And all beers (as the sign notes, all beers means domestics, imports, exports, bottles, drafts, cans, kegs and eggs) are $2.
And and and -- cocktails are $2 cheaper.
Thanks, Money-Saving Sessa!
You're welcome.
However, entering these establishments after happy hour puts you at an increased risk of encountering Meatheads.
So be warned.
(Photos by M.S. S.S.)

Posted by
Sam Sessa
at 11:47 AM |
Permalink
|
Comments (1)
Categories:
Bars & Clubs