I don't drink Natty Boh
There, I said it.
Wanna know why? I'll tell ya why ...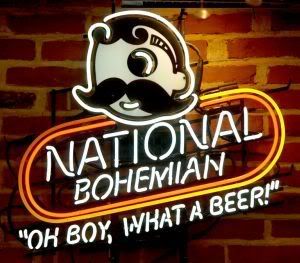 It's not good beer. That's why. It's cheap and it tastes cheap and I don't care that it used to be brewed here. It's not anymore. So I'm not supporting a local brewery if I did drink it either.

The only reason I'd drink a Boh is if I was hard up for cash or if a friend bought one for me at a bar.
I don't buy into the whole hipster "it's cool to drink Boh" mentality either.
I'd like to think I haven't done stuff because "it's cool to do it" since middle school.
And as far as cheap beers go, there are other cheap beers out there that taste better than Boh.
So there, I said it. And I'll stand behind it.
Props to Gutter Magazine (the new issue is out now) for calling out Boh too.

(Photo by Amy Davis/Sun photographer)
Posted by
Sam Sessa
at 9:41 AM |
Permalink
|
Comments (21)
Categories:
Random stuff