Hurricane specials at Bertha's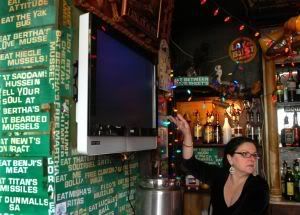 Hurricane Bertha may be swelling in the central Atlantic Ocean, but Charm City drinkers have cause to celebrate.

Since the season's first big storm is called Bertha, the Fells Point bar and restaurant of the same name is offering discounted hurricane drinks!
See, there's a silver lining in everything.
Bartender Bernard Lyons isn't exactly sure about the details, but if you bug him, he'll give you a buck or two off a hurricane drink. He might even name a drink after the storm.
"Maybe we'll have to lock everybody in the bar like it's an emergency and force them to drink," Lyons said.
"Check in with us as the hurricane grows. You'll find larger and larger drinks."
(Photo by Elizabeth Malby/Sun Photographer)
Posted by
Sam Sessa
at 2:18 PM |
Permalink
|
Comments (2)
Categories:
Bars & Clubs