'He's Gone'
One of the downsides of living in the city is I can't leave a book of CDs in my car overnight.
And I always forget to bring one when I leave for work in the morning. So I'm stuck with the four or five CDs in my center console. And I won't name names, but three of them stink.
Thusly, for the past several weeks, I have been listening almost exclusively to ...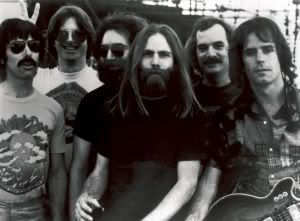 ... the first disc of the Grateful Dead's
Europe '72
double album.
Bet ya didn't peg me for a Dead Head, eh?
I'm more like an ex-Dead Head. I was big on them in college, and saw (ex-Dead bassist) Phil Lesh at least once (his super low singing range ruins nearly every song he sings, by the way).

Obviously, the Dead were much better live than in the studio. But of all their live albums, Europe '72 really brings together a tight studio sound with the spark they had on stage.
My favorite track? "He's Gone."
Dig this video with the first two minutes of it.
(AP Photo of who else but the Grateful Dead)
Posted by
Sam Sessa
at 2:05 PM |
Permalink
|
Comments (12)
Categories:
Random stuff