Courtney Love vs. Ryan Adams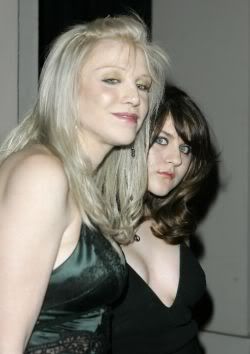 If this is true, what a wild, strange saga it is.
Courtney Love (Kurt Cobain's widow/total train-wreck) claims alt-country rocker (and semi-train wreck) Ryan Adams stole one of her American Express cards while they were having a fling and paid for his entire album Rock N Roll with it.
Be warned: If you click on that link, you get the whole weird, profane rant she posted on her MySpace site.
Now, this wasn't just any credit card. It withdrew directly from the trust fund of Love's daughter Frances Bean (pictured, right).

So, to recap, Adams allegedly stole a million bucks from Kurt Cobain's daughter to finance an alt-country album.
Wicked!
I don't think Adams has addressed the situation at this point.

That's pretty surprising, because, as Chuck Klosterman mentioned in this month's Esquire, Adams Googles himself on a regular basis.
Even better: He's not shy about spouting off ...

From Klosterman:
I think there's probably a 98 percent likelihood that Ryan Adams will read this sentence, put down the magazine, walk over to his four-track, and immediately write a psychedelic country song titled "Hey Little Leipzig Girl (I'm Glad You Dug Those Whiskeytown Bootlegs)," which I will be able to listen to on the Internet forty minutes from right now.
Either way, this whole ordeal is fascinating. And as longtime readers of this blog know, I'm not a big fan of Ryan Adams either. I like the music -- not the man.

In the meantime, Love is being sued for not paying almost $1 million to a business management and accounting firm.
The firm says she didn't ante up a slice of the profits from selling Nirvana's publishing catalogue. Coincidence?

(AP photo)

Posted by
Sam Sessa
at 10:53 AM |
Permalink
|
Comments (12)
Categories:
Random stuff