Concert review: Play!
My 14-year-old sister Emily came to the city Friday night to see the Baltimore Symphony Orchestra's rendition of Play! A Video Game Symphony.
In the show, the orchestra performs music from popular video games. Here is her review ...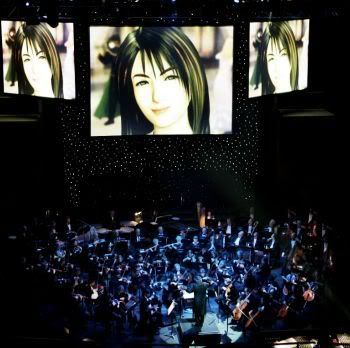 When you think of video game music, you're reminded of simple melodies and catchy tunes, right? Well, The BSO's Friday night performance of Play!: A Video Game Symphony totally redefined that.
The songs were made elegant and refined, and extra solos were added at just the right moments. The Handel Choir of Baltimore also smoothly fit into several of the pieces and blended well with the orchestra.

The orchestra started with a new work by Nobuo Oematsu made specifically for Play! and ended with the U.S. premiere of a Guild Wars medley. In between, there were 13 different medleys ranging from classics like Super Mario Bros. and Legend of Zelda to newer games such as HALO and World of Warcraft.

Out of the fifteen pieces played, my favorite was the Castlevania medley, and I have never even played Castlevania or listened to its music.
There was a wicked piano solo in the middle which left the audience in awe before it transitioned into a full-blown there-must-be-evil-lurking-about-here theme. My second favorite was (of course) Super Mario Bros., mainly for its graceful underwater theme, followed by the less familiar Metal Gear Solid. MGS's theme was balanced between the brass and string sections, with woodwinds adding great effects.

Unfortunately, the screen overhead mainly showed tidbits of gameplay from featured games which distracted the audience from the main show -- the BSO itself. Luckily, this was the only real problem with the show and didn't have a huge effect on the production itself. Even if you don't play video games, you could still enjoy everything that the show offered. When we left the Meyerhoff, we were excited, awed, and extremely pleased. It was truly a night to remember.
(Stock photo)
Posted by
Sam Sessa
at 11:17 AM |
Permalink
|
Comments (3)
Categories:
Concert reviews