Bo Bice of 'American Idol' at Seacrets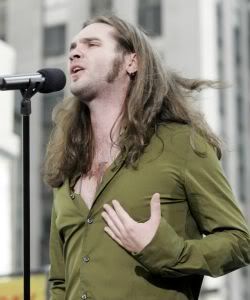 Celeb alert: American Idol star Bo "Look at my tattoo" Bice is coming to Seacrets this Sunday.
I'm not entirely sure, but I think he's performing.
Fact: With such long brown locks and a semi-unbuttoned shirt like this one, the ladies will be swooning.
Rumor: Bice was thrown out of a New York City bar after picking a fight with a member of the New York Giants in 2006, according to Page Six.
Now, that's American!
If anyone goes, be sure to report back with details.
Even if you don't, I'll still find out. There's no keeping Seacrets (pun!) from Sam Sessa.
(AP photo)
Posted by
Sam Sessa
at 2:46 PM |
Permalink
|
Comments (15)
Categories:
Bars & Clubs
,
Celebrity sightings