Woohoo!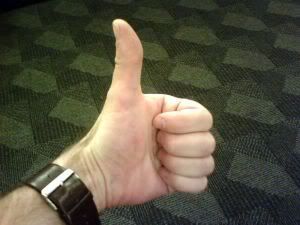 We're doing something right!
I'm referring, of course, to the royal "We." Today, Midnight Sun has its first partially sponsored ad (look near the top of your screen). It's for Bedrock. Big deal, right? Actually, it kind of is.
That means enough people are reading this bloggy that the Advertising Gods sold (suckered) someone into paying money for little old Midnight Sun.
I'd pat myself on the back, but my shoulders are so swoll it's hard to reach.
Now if only I could get Chipotle to endorse either this blog or my radio show. Come on Ad Gods! Shower me with steak burritos!
(Photo of me by me. My, what a lovely thumb I have.)
Posted by
Sam Sessa
at 11:05 AM |
Permalink
|
Comments (4)
Categories:
Random stuff