Why it's called Mother's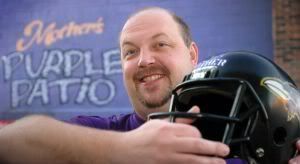 Mother's Federal Hill Grille (which is the topic of this week's nightlife column, by the way), isn't an homage to owner Dave Rather's mom.
The bar/restaurant is actually named after him.
His nickname is Mother Dave.
Curious as to how he got it?
Allow me ...
Rather earned the nickname Mother Dave in college. Back then, he was always the one who would plan parties and group events.
He also had a side business called Mom's Social Club, which he used to organize trips to New Orleans and New Year's eve parties. There is also a Mom's Ball in New Orleans, Rather said.
"It takes a little bit of my nickname and a little bit of New Orleans flair, which is near and dear to our hearts," he said.
Rather is a nice guy. But he also likes a little mischief now and then. I had lunch with him once (at Mother's, and yes, I paid for my sandwich), and we sat by a window looking out on South Charles Street.
Halfway through lunch, we spotted a homeless man emerge from an alleyway across the street. The homeless man took off his shirt and his shorts (he wasn't wearing boxers) and proceeded to dance naked on the sidewalk.
Rather whipped out his cell phone camera and started snapping away.
"Only in Baltimore baby!," he said.
(Photo by Gene Sweeney, Jr./Sun Photographer)
Posted by
Sam Sessa
at 7:44 AM |
Permalink
|
Comments (5)
Categories:
Bars & Clubs