Swoll
As most faithful MS readers know, every once in a while I like to hit you with some knowledge.
Today I'm gonna share some hip slang all the kool young kids are slingin' around. Why? 'Cause I'm dope like that.
Anyway, the word of the day is "swoll." Check it ...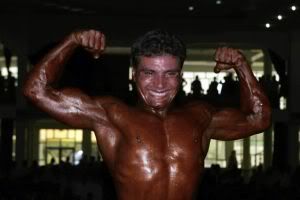 Swoll is short for "swollen."
It's a term mostly used by bodybuilders to describe their muscle growth.
Example: Yo, bra, did you see all the weight Jimmy put on? Dude got swoll.
I'm not joking. Some people seriously drop swoll into casual conversation.
Now you know.
And knowing is half the battle.
(AP Photo)
Posted by
Sam Sessa
at 11:15 AM |
Permalink
|
Comments (5)
Categories:
Random stuff