Sweet special at Mick O'Shea's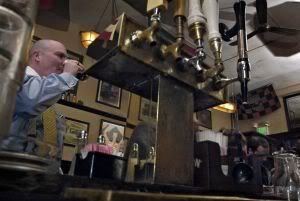 Mick O'Shea's (328 N. Charles St.) runs a pretty sweet special on Monday nights.
For $6.99, you get a burger, beer-battered fries and a draft of your choice.
When Amie and I went last week, I ordered a Resurrection -- a beer which would have cost $4 by itself at a normal pub -- with my burger.
The burger was delicious and the service was good too.
And, unsurprisingly, the place was pretty full for a weeknight.
(Photo by Kenneth K. Lam/Sun Photographer)
Posted by
Sam Sessa
at 12:43 PM |
Permalink
|
Comments (2)
Categories:
Bars & Clubs