Hi, I'm Reds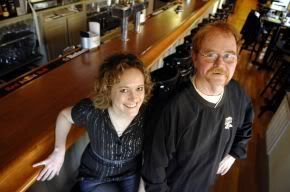 How important is a bartender's name?
Todd Conner's over in Fells Point is run by a guy named Reds (pictured, to the right).
As you can see, Reds has a handlebar mustache and -- get this -- red hair.
And none other than Biff Baker pours beer down at Charlotte's in South Baltimore.

I mean, when you go into an Irish pub and the bartender's name is Blarney MacJameson, don't you feel like you're getting the real deal? ...
Authenticity is key in such a situation, I say.

Now, I love names as much as the next person, but I'm probably not going to go to a bar just because the bartender has a name I like.
Or am I?
On second thought ... I'd love to walk into Charlotte's and yell, "BIFF BAKER! HIT ME WITH AN ICE COLD BREWSKI!" If he was named Chet Raspberry, it wouldn't have the same punch.
And would you really want to drink at a blue collar bar manned by a fellow with a Nantucket nomenclature like Scooter P. Kennedy IV?
(Photo by Monica Lopossay/Sun Photographer)
Posted by
Sam Sessa
at 10:58 AM |
Permalink
|
Comments (11)
Categories:
Bars & Clubs
,
Random stuff