Fab Five Friday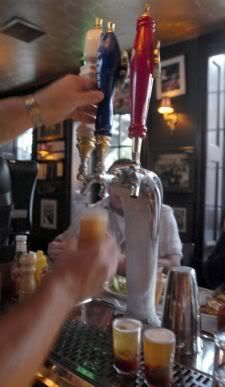 When I was coming up with my list of the five most ideal beers to have on tap, I kept closing my eyes like I was actually dreaming.
It was weird, but rewarding.
You guys had some great lists of your own, too.
I think the one you mentioned most often topped my own list. Coincidence? There are no coincidences, kids.
Either way, it wasn't easy drawing up a list of only five beers I'd love to have on tap at all times.
But by gosh I did it.
I tried to keep it a well-rounded list. But since I'm no big fan of porters or stouts, I gave ales and lagers first dibs.
Voila ...
1. Brewer's Art Resurrection

Delicious. Delicious. Delicious. Delicious. Delicious.
2. Clipper City McHenry

Rumored to be made with the original Natty Boh Premium recipe, McHenry is a must-have in my dream bar.
3. Sierra Nevada Celebration Ale
I have to check myself when this beer's on tap -- it's kind of addictive.

4. Sam Adams Oktoberfest
Nothing says fall like a cold Oktoberfest, and Sam Adams makes one of my personal favorites.
5. Yuengling Lager
My standard fallback beer. Call me crazy, but I kinda like it better out of bottles. Still, having Yuengling on tap is like having fries with your burger. Yum.
(Photo by Kenneth K. Lam/Sun Photographer)
Posted by
Sam Sessa
at 7:37 AM |
Permalink
|
Comments (15)
Categories:
Fab Five Fridays