Good times at Raleigh Times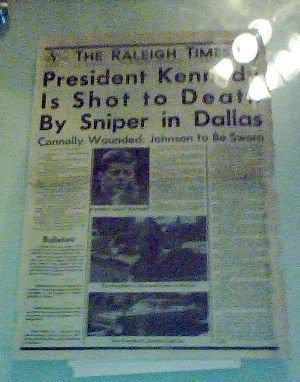 If you're ever thirsty in Raleigh, N.C., stop by the Raleigh Times.
This bar/restaurant sits in the building that used to house the Raleigh Times newspaper.
Their beer's not bad, and their cheese fries are some of the best I've ever had.
Plus, they have old clippings from the Times framed on the walls, which is cool for news junkies like me.
Although, their clientele was questionable the night some friends and I were there.
This guy one table over started taking our pictures with his fancy camera.

When we asked why, one of the people in his group told us he was a professional photographer and was taking our photos for an upcoming exhibit.
That was not cool by us, so we told him to bugger off.
Then we made paper airplanes out of our menus and flew them at him.
Put that in your exhibit, photo man!
Posted by
Sam Sessa
at 10:35 AM |
Permalink
|
Comments (4)
Categories:
Bars & Clubs