Out for a smoke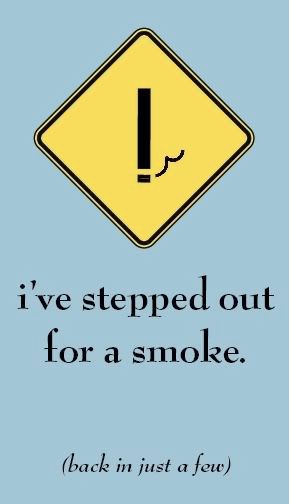 MS reader Neal Shaffer is a genius.
He designed and printed little laminated cards smokers can use to mark their territory while they go outside for their fix.
Think about it, smokers.

No one will ever steal your seat again. Amazing!

Here's
his site
, where you can order them.
You can get 12 cards for only $5 (plus $2 shipping/handling).
I call that a deal.
I'm thinking about getting some myself.
In New York, smokers mark their drinks by putting napkins or coasters over their beers.
Shaffer's cards are much classier.
"Everybody chuckles and says, 'Man, that's a great idea,'" Shaffer told me last week.
If you ask me, Shaffer is sitting on a gold mine.
These small rectangular cards could be his ticket to retirement.
Posted by
Sam Sessa
at 1:22 PM |
Permalink
|
Comments (12)
Categories:
Bars & Clubs