Homer is frying alive!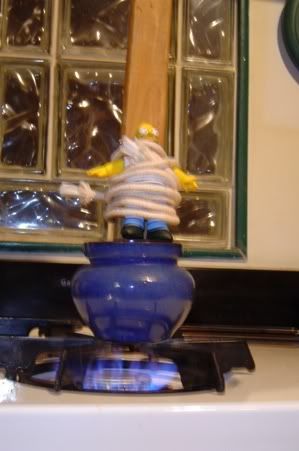 At last, an email update on Homer (which I realized was somehow caught in my junk mail folder):

OK, wize dudes. So's u wanna call the cops, eh?
Youse wanna put a bounty on are hed? We wuz good to Homer.
And I daresay our ransom request was quite reasonable. Your callous failure to act makes us question your commitment to Homer. Word.
So we are upping the ante. Now we want a lot more Doh! to get him back.
If you want to see him in one piece again, if you want to make sure we don't make stew out of him, pay up.
Ten bucks, in small unmarked bills, smart guy. Leave it with the babe at the koffee joint across the street from youse.

Here's a little picture of what we're doin to Homer now.
You mite say we're turnin' up the heet.
Yours turly,
badguyz
I'm thinking of leaving Monopoly money.
Sound like a good idea?

Posted by
Sam Sessa
at 9:49 AM |
Permalink
|
Comments (8)
Categories:
The Homer Saga