'Disturbia' question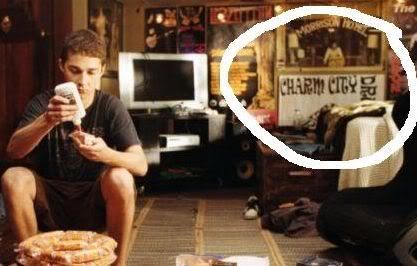 Did anybody see the movie Disturbia?
It came out last year, kind of a spin-off of Rear Window: Kid (Shia LaBasdasdff) is on house arrest for three months and starts spying on his neighbors -- with scary results!!
Anyhow, I noticed this poster in his bedroom.
Problem: It's cut off, so I couldn't read the whole thing.
All I got is "Charm City Dr----"
What could that be?
(Photo courtesy of DreamWorks)
Posted by
Sam Sessa
at 11:26 AM |
Permalink
|
Comments (6)
Categories:
Random stuff