Absinthe lollipops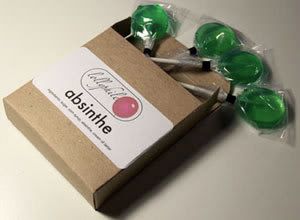 Maybe I oughta start a semi-regular feature series about weird alcohol-related products.
Or a list.
Fab Five Friday: The oddest solidified alcoholic snacks? Hmmm ...
A friend turned me onto this site where you can get absinthe lollipops -- made with the real stuff.
You can also get them bacon-flavored.
I'm not a huge candy fan, but I'm willing to order a batch of these and taste test them.
(Photo courtesy of Lollyphile)
Posted by
Sam Sessa
at 1:06 PM |
Permalink
|
Comments (3)
Categories:
Random stuff