Ssion at Metro Gallery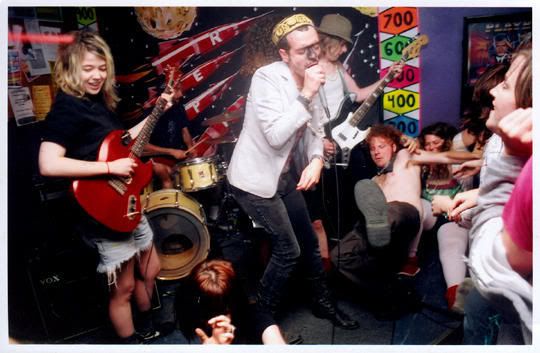 From MS correspondent Tim Swift:

The Kansas City punk collective Ssion rolled in Station North's Metro Gallery on Saturday, putting on show befitting of the artsy surroundings. Sure, the music was eclectic, but Ssion didn't stop there. The band was suited up in costume (and one could say the skinny jean-heavy audience was too) and came with a video projector in tow.
Their mischievous vocals were often washed out, but they did deliver a particularly fierce rendition of their song "The Women," which paled in comparison to their recorded version.
With an audience large enough to accommodate a little crowd surfing, Metro Galley seems to be coming into its own. The trendy space that opened over the summer has no bar, but patrons improvise. One guy came prepared with his own twist on BYOB (Bring Your Own Briefcase — full of Tab and Parrot Bay).
Posted by
Tim Swift
at 7:27 AM |
Permalink
|
Comments (1)
Categories:
Local music