Review: St. Vincent at the Rock and Roll Hotel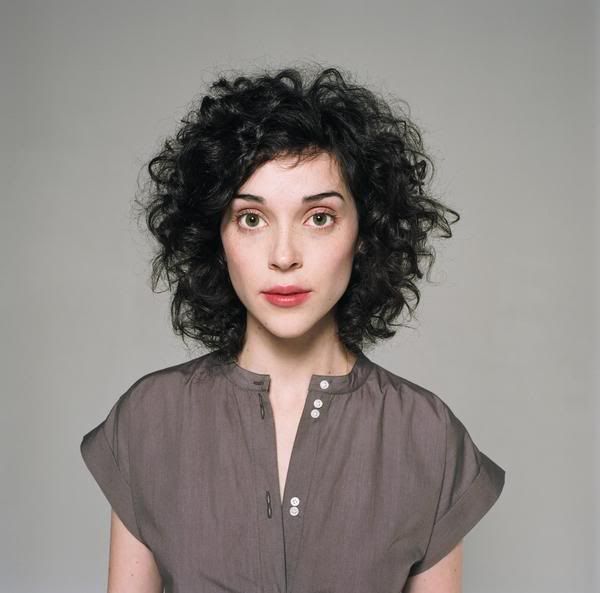 MS reader Mary Hartney was at Tuesday night's St. Vincent show.
Here's her report:
Watching a St. Vincent show is a bit like being in a high school music class, with a dainty, young teacher who encourages effervescent flute and violin playing and whistling -- except that every now and then, she raises a single eyebrow, pauses, and proceeds to completely destroy the guitar that just moments ago looked like it would consume her.

Annie Clark, the force behind St. Vincent, has the resume to prove her musicality: She was a member of Polyphonic Spree and has toured with Sufjan Stevens and gives off the vibe that she's spent a lot of time teaching and learning all kinds of music.
But for every "Now, class, pay attention" look she gives the audience (and pay attention we do), she has a quirky comment to balance it out.
Last night at the Rock and Roll Hotel in Washington, the stage was decorated with small trees and a vase of flowers she carried out as the band took the stage, so "we can all feel like we're giants in a psychedelic forest."

I saw her almost a year ago at the same venue, when she opened for Midlake, and Maryann and I had spent the past few weeks obsessively listening to her songs on her MySpace page. We were two of about 10 people really focused on her playing at that show (and the first ones there because we are ultradorks). Now, her album's been out for some time, and we could barely cram onto the floor -- and spent most of the time craning our necks around a guy wearing a sweatband and another taking the exact same picture over and over (dude, get a better lens).

But she's still more than worth it. A year later, Clark's sound has changed, too -- she now has a full band, instead of her spare voice and an organ and guitar, and the highlight for me was a complete restructuring of "Paris Is Burning." If it can be made any more haunting, it was, with voice distortion and dramatic slow-downs.

She finished with a single-song encore, kind of an anomaly these days, doing "What Me Worry?" solo -- just like in the old days.
(Photo by Tod Seelie)
Posted by
Sam Sessa
at 9:55 AM |
Permalink
|
Comments (0)
Categories:
Local music