Last night's Beach House show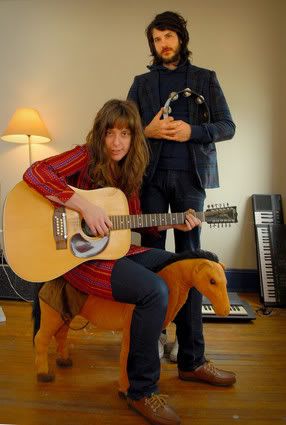 Here's a good way to gauge how many indie kids and hipsters read this blog:
How many of you were at last night's Beach House show at G-Spot?
Half the hipsters and indie kids in Baltimore were there.
I heard it sold out, and I'm not surprised.

Beach House was there too -- I think. I could hear them, but I sure as heck couldn't see them.
The lights were dimmed so low and the stage was so low to the ground, it was hard to tell if there was a band playing or not.

"It's like listening to a stereo in a dark room," said Wye Oak singer/guitarist Jenn Wasner, who was in the audience.
At least the sound was good.
Beach House singer/keyboardist Victoria Legrand's breathy, beautiful voice was wrapped in reverb, and guitarist/singer Alex Scally backed her up with harmonies.
Beach House has a brand new album called Devotion, and they played a few songs from it, such as the single "Gila."
They even covered Daniel Johnston's song "Some Things Last a Long Time."
The duo closed their roughly hourlong set with "Tokyo Witch," off their self-titled debut.
It was a hypnotizing performance that deserved a better venue.
(Photo by Chiaki Kawajiri/Sun Photographer)

Posted by
Sam Sessa
at 3:17 PM |
Permalink
|
Comments (3)
Categories:
Local music