Fab Five Friday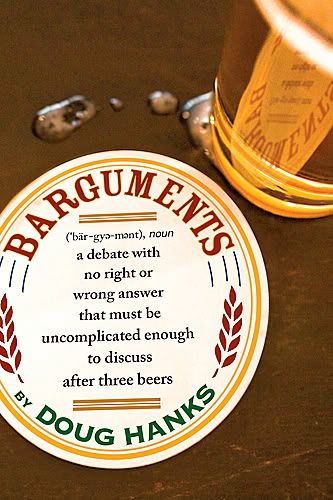 Thanks again for all of your bargument suggestions.
In case you're just tuning in (and slightly mentally challenged), a 'bargument' is an argument best hashed out in a corner bar.
I thumbed through the book Barguments by Doug Hanks and picked out my five favorites.
1) Choose one of these rules to obey for the next 14 days: Going for a hug every time someone offers you a handshake or ending all telephone conversations with "Love ya."
2) You suddenly have the ability to implant a song in your enemies' heads. Which one do you pick?
3) If you could instantly become five times better at doing one thing, what would you choose?

4) If you had to tap a president from film or television to run the country, who would get the nod?

5) Would you rather drink a glass of melted butter or eat a small bowl of mayonnaise?
I'll post my answers to these barguments in a little bit.
And I'll mail a free copy of the book to the commenter with the funniest answers.
Posted by
Sam Sessa
at 8:02 AM |
Permalink
|
Comments (20)
Categories:
Fab Five Fridays