'Barguments'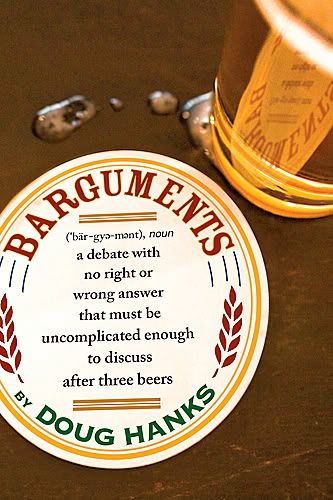 Got a few preview copies of Barguments in the mail earlier this week.
It's a new pocket-size book coming out early next month by Eastern Shore native Doug Hanks.
Each page has a question that you could debate for hours in a neighborhood bar.
So once a week for the next couple weeks, I'm going to ask you one of the questions in the book.
I'll pose the questions.
You give the answers.
Now, people, I need brutal honesty, pointed wit and subtle sarcasm.
Give it all you've got.
Bargument No. 1:
Which is more fun: Friday or Saturday night?
Posted by
Sam Sessa
at 7:11 AM |
Permalink
|
Comments (14)
Categories:
Bars & Clubs
,
Random stuff