Game time at Mad River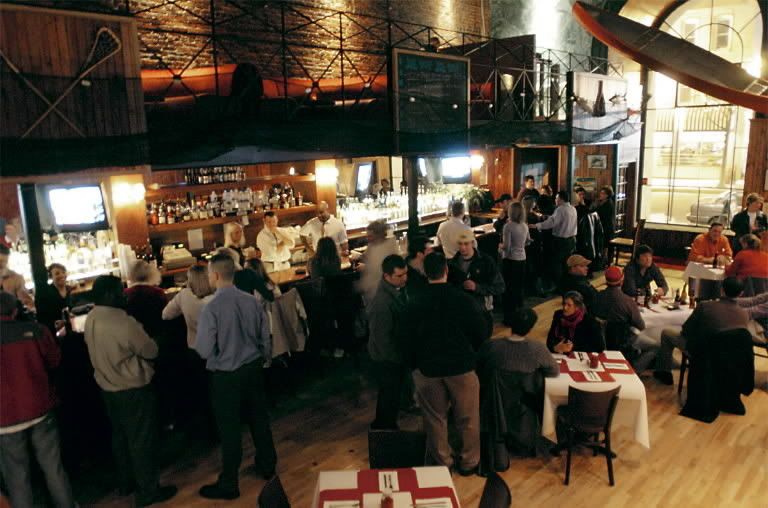 Amie and I went out in Federal Hill Sunday searching for buffalo wings and mozzarella sticks.
First, we went to Rafters on Fort Avenue. But it was packed, and it looked like there was only one bartender/server on duty. Then we went to Capt. Larry's across the street. They don't serve mozz sticks.
We walked back across Fort Avenue and thought about getting some from Hilltop Carryout. No wings. No dice.
So we kept walking, down to Don't Know Tavern, which didn't have the sticks, and finally settled on Mad River (pictured).
I was shocked -- we got a table right away. Timing is everything. It was the fourth quarter of the Ravens/Jets game, and Mad River was out of fries, buffalo wings and something else I can't remember.
Amie got her mozz sticks, and I settled for boneless buffalo wings (chicken tenders dipped in buffalo sauce) which were actually really good. I ordered a $2 Bud Light draft (hey, it's two bucks) and we stayed for the rest of the game.
I wish we would have snagged a booth, because it looked like all the booths at the bar had their own flat screen TV. The only other place I've seen that is the Greene Turtle in Columbia.
(Andre F. Chung/Sun Photographer)
Posted by
Sam Sessa
at 10:41 AM |
Permalink
|
Comments (4)
Categories:
Bars & Clubs