Fab Five Friday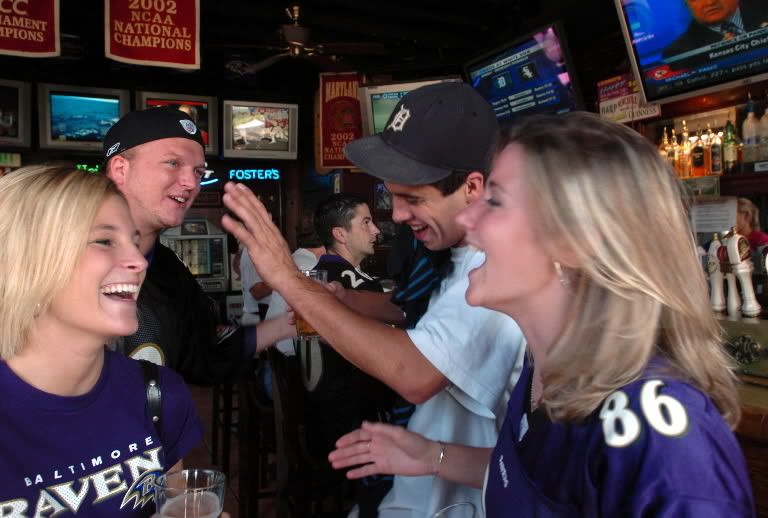 Here is my list of the best five places to watch the Ravens play.
1. Mother's Federal Hill Grille, 1113 S. Charles St.
Mother's goes insane on Ravens games. They set up a big tent in the parking lot next door called the Purple Patio, and inside the place gets jam packed. If you want to get riled up before the game, Mother's is the place to do it.
2. McCracken's on Key

I'll bet you've seen this place a dozen times but never been inside. It's right across Key Highway from Little Havana. They've got a few big screen TVs, excellent service and $1.75 domestics. I went for the first time last night and I'm sold.
3. Looney's Pub, Canton Square (pictured)

At Looney's, a lot of the fans know each other and have no qualms about shouting, whooping and swilling extra loud.

4. Padonia Station, 63 E. Padonia Road, Timonium
The Station is big enough where you can usually get a table or a barstool in time for the game. At game time there's a mix of old-school regulars and early 20-somethings. Plus, they (purposefully?) call their happy hour the Grande Happy Hour, which sounds old-timey and inviting.

5. Bedrock Billiards, 401 W. Baltimore St.
Here, you can shoot pool upstairs while watching one of the numerous TVs or head downstairs to the more relaxed lounge. Bedrock is in a classic building with super high ceilings, and they've decorated the place well.
(Algerina Perna/Sun Photographer)
Posted by
Sam Sessa
at 8:53 AM |
Permalink
|
Comments (10)
Categories:
Fab Five Fridays