Fab Five Friday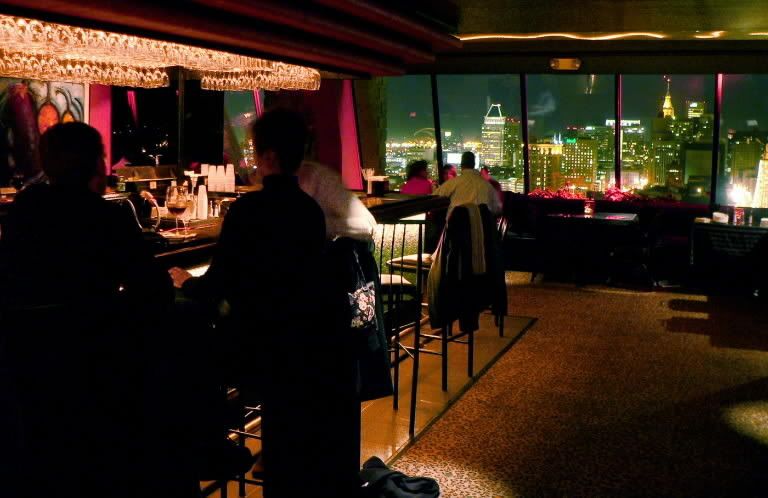 Here is my list of the five bars you can use to impress your snobby hipster friends from Washington:
1. The Brewer's Art, 1106 N. Charles St.
The best of both worlds: the upstairs parlor where your friends can mingle with other hipster friends and argue about the similarities between Interpol and Joy Division, and the dungeon-like downstairs lounge where you can all drink delicious beer together.

2. The Dog Pub, 20 E. Cross St.
Formerly the Thirsty Dog, this is a place where you can wow your friends with two glass mugs of microbrew for $3.50 and tasty, cheap personal pizzas. It's got the classic Baltimore look, too -- long and narrow with plenty of wood and brick.

3. Ixia, 518 N. Charles St.
Go here if you want to say, 'Look! Baltimore has hip/classy/semi-pretentious restaurant/bars with fancy martinis too! And here, you don't even have to pay a ridiculous $10 cover like you would back in Washington!"
4. The 13th Floor, The Belvedere, 1 E. Chase St. (pictured)

Just as Patchen said in his comment, the view is something your D.C. compadres will never get back home. Grab a drink, wow em, and head somewhere else -- the 13th Floor should be a stop on a bar tour, not a destination.
5. Leadbetter's, 1639 Thames St.
If your friends are the let's-drink-Natty Boh-because-it's-cool type, take them here. Do it on a Friday or Saturday night when a few bikers are in there and the guy who looks like Dee Snider is serving drinks. That's how you get your Baltimore on.
(Karl Merton Ferron/Sun Photographer)
Posted by
Sam Sessa
at 7:34 AM |
Permalink
|
Comments (7)
Categories:
Fab Five Fridays