Tour diary: J-Roddy Walston and the Business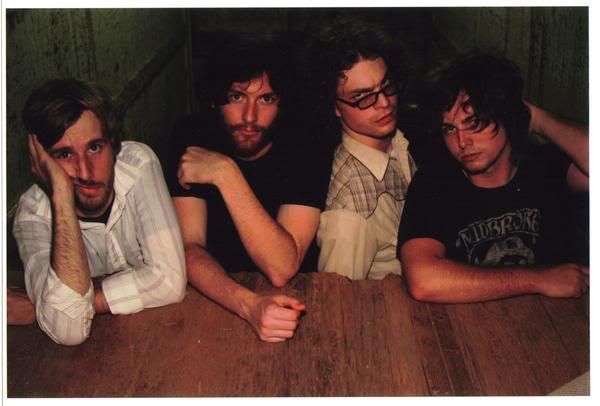 Periodically, I ask local bands to send me stories from the road. This one is by far the weirdest, freakiest yet.
From drummer Steve Colmus of J-Roddy Walston and the Business:
"We were in Little Rock, Ark., on tour and we arrived back at the place we were staying around 2 a.m. after a night about.
"This girl we were staying with told us she and some friends were going to crash an apartment pool and go swimming, and (bassist) Zach and I went along. We got to the complex, found the pool and hadn't been swimming for 10 minutes before this guy came out on his third-floor balcony with a camera with a massive telephoto lens.
"The girl we were staying with instantly got the creeps and told us we had to leave that minute. We grabbed our stuff and hustled back to the car while the rest of the group continued swimming with this guy taking pictures the whole while.

"After we got back to the car, as we were pulling away, two of the group ran up and said they were getting their car because one of the guys in the group had gotten cut and needed to be taken to the emergency room. They seemed really calm about it, so we thought it wasn't that serious, and we drove off.

"The next day, we find out that minutes after we left, the creep on the third floor came down to the pool-area and started shouting obscenities at the folks still swimming. One of the guys in the group got out of the pool and tried to talk with the guy, but instead the weird guy grabbed one of the metal beach chairs and threatened to hit him.
"Before anyone knew what was going on, the nutbar threw down the chair and picked up a samurai sword he had brought down from his apartment and laid in the grass! Everyone took off running and the guy took a swipe and cut open one of the guys' back, then took off into the night.
"The rest of the crew took the guy to the emergency room where he received 20 stitches and four staples to close the wound! The cops broke down the door to the nut's apartment and found it stocked with ... weapons and cats, but he still hadn't shown back up when we left Little Rock a day later.

"I'm not sure if there's a lesson here. Maybe it's that sometimes a woman's intuition is all that stands between you and 20 stitches."
Posted by
Sam Sessa
at 10:06 AM |
Permalink
|
Comments (1)
Categories:
Local music
,
Tour diaries