For sale: Harbor Way Inn
I've driven by the Harbor Way Inn 100 times but never gone inside.
The bar/grill, which sits near the corner of Pratt Street and MLK Boulevard, looks like it's been there for decades. Doesn't look like much has been done with the place since before Harborplace was built, either.

I've wanted to do a Meet the Venue on it, but it looks like I'm too late. I passed by a week or so ago and noticed a For Sale sign in the window. I walked over and saw this note posted: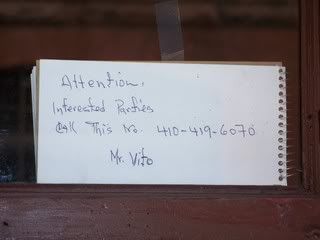 I left a message for Mr. Vito, but he hasn't called me back yet.
My question is, what would you like to see in place of the Harbor Way? Ridgely's Delight already has a newly redone bar -- Quigley's Half-Irish Pub. And the Camden Pub is right up the street. So I think that pretty much rules out pubs.
How about another pre-game spot? A high-end lounge? A tequila bar?

What do you think?

Posted by
Sam Sessa
at 6:47 AM |
Permalink
|
Comments (7)
Categories:
Bars & Clubs