Baltimore needs one of these
Spotted in Louisville: The garage door on the side of this bar allows for maximum outdoor service.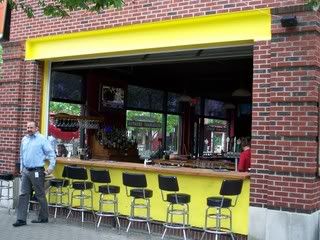 This place is called the Bluegrass Brewing Co. I had a few drinks there a couple weeks ago and decided Baltimore needs at least three or four bars with garage door bars like this.
The bar you see in this picture is actually part of the main bar inside, so bartenders don't have to run outside or to some special section to serve you. On warm days/nights, they just lift open the door, and people can eat outside while sitting at the bar. It's pretty sweet.
(In case you were wondering, I'm not sure who the dude in the picture is.)

Posted by
Sam Sessa
at 7:24 AM |
Permalink
|
Comments (2)
Categories:
Bars & Clubs