Beer pong vs. Beirut: the official ruling
Something like 16 posts later, it's clear the whole beer pong vs. Beirut issue is a pretty hot topic.
Here is the official tally:

7 of you think the drinking game is or should be officially called beer pong
4 are all for calling it Beirut
2 are undecided
and 2 are disqualified for giving me useless (but funny) answers like "In northern Baltimore county, we called it 'CUPZ N BALLZ.'"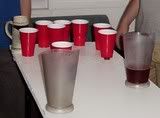 The definitive answer comes from The New York Times, which calls the game beer pong. Here's a couple paragraphs from a 2005 story:
"The bar is packed, the floor is wet, and dozens of glassy-eyed young people are squeezed around tables trying to lob Ping-Pong balls into cups of beer.

It is the final round of a beer pong championship, sponsored by a maker of portable beer pong tables, and all across the bar, as one team scores points, the other happily guzzles beer."
So there, it's settled, once and for all.
Posted by
Sam Sessa
at 8:08 PM |
Permalink
|
Comments (2)
Categories:
Bars & Clubs