Who's got the best blog about Baltimore real estate?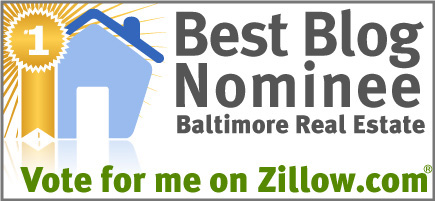 Zillow is holding a "best real estate blog" contest, and the Real Estate Wonk is one of the nominees for Baltimore. Keen!
The voting -- already underway -- runs through 3 p.m. on Aug. 11, and you can vote once per day. So "vote early, vote often" actually applies here.
I hope you like this blog enough to vote for it, but do go vote for your favorite whichever it is. The other nominees are the Baltimore Blog, Baltimore Grows, Baltimore Real Estate Investing Blog, the Hannon Realty Group's blog, the Harriett Wasserman Team blog, Hibanism, Maryland Housing Blog, the Metro Baltimore Real Estate Blog and Realtor Marney Kirk's blog.
Clicking on the banner will take you to the poll. Thanks, all.
Posted by
Jamie Smith Hopkins
at 7:22 PM |
Permalink
|
Comments (7)
Categories:
We're No. 1! (Or thereabouts)